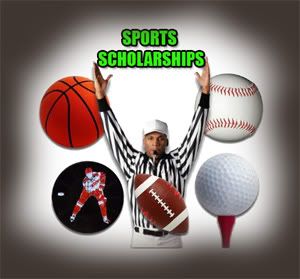 As you go through the process of trying to obtain a sports scholarship and funding for college it is important to remember that this can seem to be a vast and complicated subject.  In reality, the field is much smaller than you would care to know, and you need to be careful and do your research first because  not only can you waste a lot of time, but also a lot of money in the process.  One of the first things you need to determine is whether or not you really are talented enough to compete in the sport you're looking at.  It's just like marketing, if you cannot deliver a product, it does not matter how good your message is.  Your product (which is your ability to compete) is paramount and if you do not have the talent and skill, you might as well hang it up.
Also, do not be deceived by rumors and myths that you may hear about scholarships. Yes, there are quite a few of them out there but the number of people competing for them is fierce and you need to be ready for that eventuality and also some rejection in the process of looking for scholarship.
One of the key things that must know how to do is find athletic scholarship money and the sources of athletic scholarship money.  The first place that you need to look is with the federal government, which is the largest repository of funding in the United States.  Not only can you look at federal funding but you can also look at big corporations, foundations as well as smaller companies, and even in some cases, soul proprietor businesses as well.
So, your goal is to do the following:
identify sources of funding for your sports scholarship
identify what sport you are going to apply for and what level you will be playing at
know how to apply for the sources of funding
make plans to approach the sources of funding
follow-up and see if your application has been received
create a strategy for sending your materials to prospective schools, federal agencies, and businesses
A good place to start is usually with Uncle Sam, who has been giving out all sorts all sorts of money in terms of loans, grants, scholarships and work-study programs for students that are involved in sports.  Not only can you look to your federal government for extra funding, but you can also look to state governments as well.
Most people look directly to universities and colleges to supply them with scholarships and funding. However, in this case, you need to be able to follow through on whatever you have to offer these entities.  Colleges and universities are a two-way street; in other words they want something back for what they give you.  So, unless you have something to give back in terms of skill and playing ability, you will have a tough time of obtaining a scholarship with a college or university.
So, consider at looking at all of your options here. You need to check out the following funding entities that are usually involved with sports scholarships:
the federal government
state governments
municipal governments
big corporations
small corporations
small businesses
sole proprietorships even
You also want to look at the usual funding for college through the federal government as well as other sources of college funding that does not involve itself an athletic scholarships as well.  This way, if you do not get the scholarship that you want you still have alternative methods to fund your way to college.  These are just a few of the ways that you can begin your process of searching for a sports scholarship.
If you want a free e-book that will show you step-by-step what you need to do in order to find, apply and follow up with a sport or athletic scholarship click here right now and get an absolutely free copy of this great book. You need to move quickly and with a lot of action in order to accomplish your goals so do it now.  Click here: Guide to Applying for Athletic Scholarships
One Response to "How to Find Athletic Scholarship Opportunities"