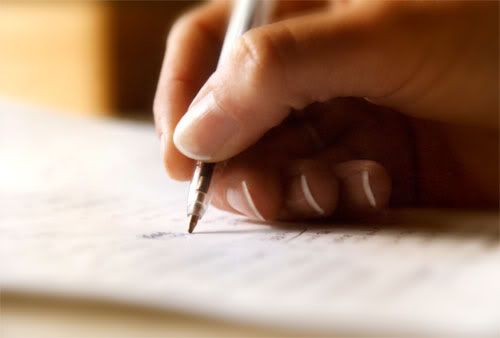 One of the fundamental things you must do in order to get successfully recruited by coaches is to send them a cover letter.  Bear in mind, that coaches are not only interested in your abilities to play your sports field well, but also the want to what your integrity and character are like as well.
If you are not particularly good at writing you could always hire someone to help you with this task.  Also, there are many books on the market that have cover letters already written.  Incidentally, if you are going to go to college anyway, I'd like to expose you to a very indispensable book that I used considerably while attending college and it is a very, very valuable resource.  The name of this resource book is the Administrative Assistant's and Secretary's Handbook published by The American Management Association.  It covers all aspects of letter writing and communication in letter form.  It also has an extensive grammar section covering all aspects of sentence construction as well as punctuation.
You should try to find out ahead of time what a coach is looking for when he looks at a prospective scholarship contender
Another good resource that you should consider purchasing is a book called Get Free Cash for College: Secrets to Winning Scholarships it has a rather extensive section on writing cover letters for scholarships as well as a plethora of information on how to apply for scholarships for college.
One last resource that I would like to mention is the Ellistrations Sports Scholarship Attraction Videography Package on our Gold level.  This package has formatted cover letters that are written in series, so that you can follow up with a series of letters in order to make sure you are noticed.  This series of letters is combined with a host of other effective tools that are accompanied by our videography business to insure that you have a professional package already in place to use in a moment's notice.
Here are a few steps that you should follow if you are going to write your own scholarship letters.
You should try to find out ahead of time what a coach is looking for when he looks at a prospective scholarship contender.  Knowing this information ahead of time is very important and it contains the fundamentals of sales and marketing.  If you were trying to sell something, wouldn't you have a better chance if you knew everything you could about the prospect you were trying to sell to? So, if you can try to find out as much as you can about what the coaches are looking for.
You need to know the coach's name and title when you address the letter and you will need to use the proper salutation. (Sir or Madam) I personally hate the "To whom it may concern" line, but if that's all you have to go on, then you will have to use it.  However, considering the high stakes of sports scholarships, you should know to whom you are addressing the letter to.
Do not display any sense of arrogance in your letters.  Remember, you are sending a message to someone that has an important and tough job, and you are asking them for time.  Time is more precious that gold or silver, because you can never get it back, so imagine what it is like to be a coach of an athletic team in college where time is something you have a limited amount of.  Also, try to let the coach know how the scholarship will allow you the opportunity to help others out, not just yourself.
Somewhere in the body of the letter it would be a good idea to acknowledge some of the accomplishments of the team so that the coach will know that you know a considerable amount about the team and school.
Always close your letter with a line that says that you are looking forward to hearing from them.  This sends a powerful message to the coach that you are enthusiastic about hearing from him and how excited you are about the prospect of playing on the team.
in my next installment, we will try to include an actual example of a cover letter, so that you can see what a fairly well written looks like, so please check back for our next post.
Mark "Elmo" Ellis is the CEO of the videography business, Ellistrations Sports Scholarship Videography, which is based in Lexington, KY.